A tailored suite of pre-registration services…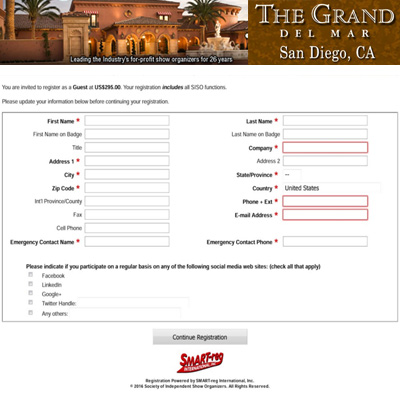 From custom website development and dynamic administrative dashboard access to CEU/Event tracking to fit your unique show's requirements.
Our capabilities, innovations and our 31+ years experience gives you the ability to design and implement an online and onsite registration system that benefits your event by streamlining the registration processes to your show's individuality and uniqueness.
 Websites
You provide all business logic, restrictions, logos, etc. and we take it from there.
Each website is developed with client participation.   A robust admin dashboard chock full of goodies (for edits, changes, reports, email campaigns) is standard. We link to various social media sites before and after the attendee completes the registration process, and offer web analytics and all our websites are mobile-device friendly.
We have tons of experience integrating APIs and web-services and even communicating with 3rd party services (ex. Avalera).  Prefer to use another company for online registration?  Not a problem.  We can partner with whomever. All we need is their API and if they don't have one, then a simple data-export will work.
Invitation Letter Automation
To promote and assist international attendance, our attendee and exhibitor registration websites allow a registrant to receive a participation or visa letter upon completion and payment of registration fees. The registrant can choose to have the letter delivered via email, direct mail (First Class or UPS/FedEx) or as a PDF within their web browser.
We can also encourage and incentivize attendees to promote and further advertise the event on their social media platforms.
Advance Registration for Exhibitors
SMART-reg has experience with tracking and managing badge allotment for exhibitors and groups.
Throughout the registration process, you have the ability to adjust the allotment to accommodate changes.  For an example, if the exhibitor upgrades to a different size booth.  We also provide dynamic booth selection and payment, as well as integrated product locators. Like the attendee reports, the exhibitor reports are custom and are also self-serve.
Some of standard reports include:
Track complimentary passes and discounts
Exhibitor Count by Company/Employees/Hotel Confirmation
Administrative Site
Through this site, the show management team will have instant access to detailed event information and can modify information. We provide detailed, custom reports and views of registration data as well as the ability to export the information at any time.
We also offer the capability of tracking and managing discount codes.  We can work with multiple usage codes or a one-time usage code. In addition, we can also work with our customers to tie-in the registration process with various social media applications.
Some real-time standard reporting includes:
Demographic/statistic analysis
Financial reporting
Attendee Counts
Exporting data directly to an importable file
Web Analytics
Data aggregation
Our websites and on-site systems can process all credit cards and can track all world currency.
We offer abandonment tracking so that if a potential registrant leaves the site before completing their registration or transaction, they receive an email prompting them to finish.
SMART-reg International can display the confirmation e-mail (and even websites) in various languages.  We can provide data integration to third parties with accurate and reliable business data. Our sales and activity reports are easy to extract and import, and allows the tracking and reconciliation of financials by multiple types of dimensions.
Attendee and Hotel Verification
All our sites can implement hotel verification to ensure your hotel block is accurate and you are charged exactly for the correct amount of pickup rooms. The hotel link is embedded into the confirmation e-mail.  We can track which hotel they selected and attach that information to the individual's record. We have experience working with hotel management programs (like Passkey) and with 3rd party housing companies (like ParAvian).